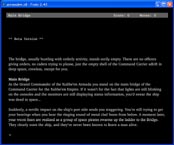 Well it's the dog days of summer and a raging heat wave has made things miserable. I'm trying to spend it inside, because I know the sun is trying to kill me, and hell, I gotta get through this beta.
Yes that's right, Across The Stars has entered the first round of beta testing, and I'm starting to see that there's still a lot of work to be done. During days like these it can seem a mountain to climb; but if I can weather it out I know I'll have a good game on my hands, at least for a text adventure, and we'll see. I've already entered it into the
13th Annual IF Comp
and there should be forty plus games that it's going up against this year.
A few more beta tests, and we'll know if she has what it takes - D