posted 6:06pm

"Blade Runner: The Ultimate Edition"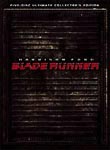 You know they just don't make movies like this anymore. Large sets packed with extras, detailed-and-extensive models instead of computer graphics, art direction filling the movie, packing it with details that brings the very city to life. Blade Runner now is in its fifth installment, released in a package that comes with everything a fan could hope for. For Christmas, Ridley Scott has made available the five-disc ultimate collector's edition. Not only releasing all five versions of the movie, The Final Cut, Director's Cut, U.S. Theatrical Cut, International Theatrical Cut, and the Home Video Workprint, but also including Dangerous Days: Making of Blade Runner, Promotional Featurettes, Trailers, Deleted and Alternate Scenes, and a lot of short vignettes. This all comes in a small plastic case with an Art Folio, Miniature Unicorn, Spinner Vehicle Replica, and a Motion Film Clip similar to the visual effects of Pogs.
Ridley Scott says in the introduction to The Final Cut that this is his favorite version of the film. While the audio track of the movie has been cleaned up quite a bit along with the film restoration that has been done, there's not a whole lot of difference between this cut of the film and the Director's Cut. My personal favorite is the original U.S. Theatrical Cut. I feel it has a harder edge and I like Harrison's Voice Over, but I can also appreciate the more cinematic versions of the film like the Director's Cut or The Final Cut. Also, three versions of the movie, U.S. Theatrical, International Theatrical, and the Director's Cut, all come on the same disk. So the laser must be jumping around a bit to cut the different versions of the movie together. I didn't notice the pause, but on some players it might show up.
There are also a lot of short vignettes on the Archive Disk, including a documentary about, and audio interview with, Phillip K. Dick, the writer of "Do Androids Dream of Electric Sheep" which is the book the movie was based upon. On top of that, the deleted and alternate scenes included within the Archive not only gives you outtakes which have never been seen before, but a lot more voice over from Harrison Ford that works in some parts and doesn't in others.
In all, this is an amazing package, and a lot of work went into interviewing all the people associated with the movie in order to create a lot of the extra material. For any Blade Runner fan this package is a must, and I'm ecstatic that I got it for Christmas.
- D